Riverton Ezicalve Herefords are bred for superior calving ease and low birthweight, in an uncompromising commercial environment that produces proven cattle with accurate EBVs.
Our vision is for dairy and beef farmers to have confidence calving two year old heifers, producing a quality beef calf whilst reducing the risk to their heifers.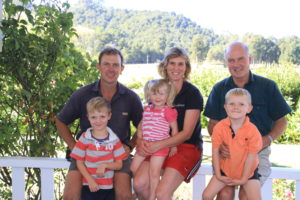 Mike and Cath Cranstone are the fourth generation of the family to farm at Fordell, Wanganui, and continue the genetic progress of the Riverton Hereford Stud.
The stud was established in 1905, making it the oldest Hereford Stud in New Zealand.
The property is situated in the Whangaehu valley and comprises 1650 eff ha of sandstone hillcountry supported by fertile riverflat. The property is farmed intensively carrying 18,000 stock units, with the 630 cows calving and competing with 8,000 breeding ewes.
Key components of the Riverton hereford Stud's breeding programme.
Consistent breeding objective and selection for calving ease for 25 years
Stock run in large mobs in challenging conditions providing accurate performance data.
200 two year heifers calved annually, providing opportunity to test new genetics and selection pressure for cow herd replacements
Quiet temperament is non-negotiable
Strict culling policy based on performance.
All heifers and majority of sale bulls are carcase scanned (Eye muscle and marbling)
Yearling bulls have 400 kg sale weight, suitable for heifer and cow mating
2012 NZ Herefords Herd of Excellence
Great service and back up bulls provided.
32nd Annual sale
Thursday 21st September 2023, 12 noon
100 yearling bulls & 30 two year bulls
Contact Us  – Mike & Cath Cranstone
814 Kauangaroa Road, RD7, Wanganui 4577
Ph: 06 342 7721  |  Mike: 027 218 0123  |  Cath: 027 281 9117
0800 EZICALVE  |  E: crannyandcath@outlook.com